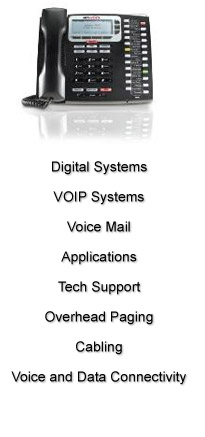 Contact Us


205 Wallace Lane Fredericksburg VA 22408

Phone: (540) 735-2300
Mobile: (703) 447-3043
Fax: (540) 891-8903
Email: info@zaitek.com




welcome to Zaitek Converged Communication Solutions
Zaitek Converged Communication Solutions' vast experience in the worldwide marketplace ensures that we will be providing the latest in telecommunication solutions for your company today and in the years to follow.

We install, relocate, service and repair phone systems by Vodavi, Toshiba, Avaya, Vertical, Panasonic, Nortel,
X-Blue and many more.

Zaitek offers an array of services for any business or residence. Our area of expertise includes telephone setup, voice mail, system relocation, innovative cabling, VOIP and network/data systems. Zaitek is also dedicated in supplying our customers with sophisticated surveillance systems and exceptional audio equipment.

Our revolutionary inventory consists of a broad range of IP cameras that deliver images in high definition. We even have cameras that are capable of providing images of color in near darkness. We have plenty of other video solutions for nearly every application.

Regardless of your commercial or residential technology needs, we have you covered.

We offer recent innovations in vehicle tracking technology that can be utilized for employee time management, scheduling/travel logistics and fuel efficiency. We will expertly set_up tracking devices in company vehicles or exceptional hidden cameras wherever necessary.

We are conveniently located in the heart of the metropolitan area in Springfield Virginia.

We continue to be the most cost-effective telecommunications company in the region. With hundreds of satisfied customers both locally and throughout the country, Zaitek stands poised to be your technology supplier of choice. Give one of our seasoned professionals a call to arrange an assessment of your needs.